The Department of Public Health Sciences is the home to the only program in the state that is preparing public health educators at both the undergraduate and graduate levels. We offer a nationally approved undergraduate degree in community health education and an accredited Master in Public Health Degree with specialization in Health Behavior and Health Promotion (HBHP) and Health Management, Administration, and Policy (HMAP). Both programs offer students the opportunity to take courses on-line or through the traditional face-to-face format.
Our faculty are nationally recognized as outstanding scholars, teachers, and mentors. Faculty have received many national awards, participated in national organizations and are known nationally and internationally in their field of study.

Faculty take great pride in working with students and mentoring them as they enter the public health world. We are proud when we state 'We ARE Public Health'. We are even more proud of the fact that 'We don't just talk public health, we do it!'
Accreditation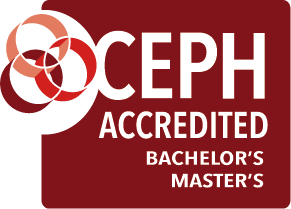 The NMSU Department of Public Health Sciences is accredited by the Council on Education for Public Health (CEPH)
The Department of Public Health Sciences first received accreditation in 2000, and received accreditation most recently in 2018, which will extend through December 31, 2025.
The final self-study document:
Public Notice of CEPH Reaccreditation
September 20, 2018
On behalf of the Council on Education for Public Health, I am pleased to advise you that the CEPH Board of Councilors acted at its September 7, 2018 meeting to accredit the Public Health Program at New Mexico State University for a seven-year term.
The accreditation term extends until December 31, 2025, pending the program's continued documentation of compliance through the compliance report, interim report, annual report, and any other reporting required by the Council.
Sincerely,
Rose Marie Martinez, ScD
President
Council on Education for Public Health
1010 Wayne Avenue, Suite 220
Silver Spring, MD 20910
Telephone (202) 789-1050
www.ceph.org