Accreditation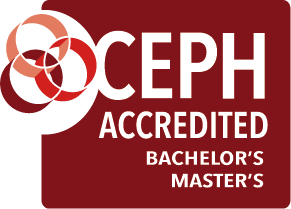 The NMSU Department of Public Health Sciences is accredited by the Council on Education for Public Health (CEPH)
The Department of Public Health Sciences first received accreditation in 2000, and received accreditation most recently in 2018, which will extend through December 31, 2025.
The final self-study document:
Public Notice of CEPH Reaccreditation
September 20, 2018
On behalf of the Council on Education for Public Health, I am pleased to advise you that the CEPH Board of Councilors acted at its September 7, 2018 meeting to accredit the Public Health Program at New Mexico State University for a seven-year term.
The accreditation term extends until December 31, 2025, pending the program's continued documentation of compliance through the compliance report, interim report, annual report, and any other reporting required by the Council.
Sincerely,
Rose Marie Martinez, ScD
President
Council on Education for Public Health
1010 Wayne Avenue, Suite 220
Silver Spring, MD 20910
Telephone (202) 789-1050
www.ceph.org